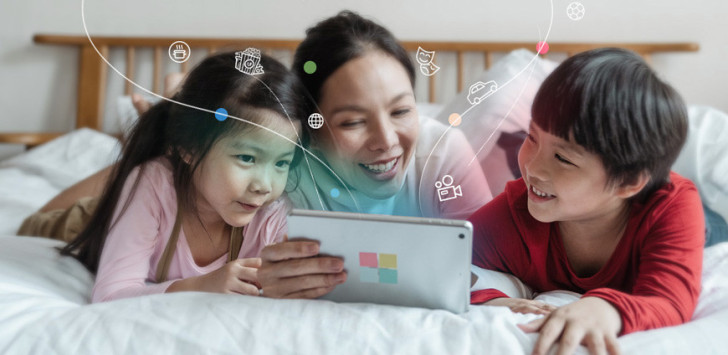 BRIEF SUMMARY PT MEDIA NUSANTARA CITRA TBK
PT Media Nusantara Citra Tbk or MNC, being part of the media business within MNC Group owns and operates 4 national free to air TV stations or FTA: RCTI, MNCTV, GTV, and iNews with its fastest growing OTT streaming service called RCTI+.
In content, MNC produces 23,000 hours a year for its own FTA, third parties, cinemas and digital platforms with more than 300,000 hours of content library. It also has the largest talent management with close to 400 artists under management.
MNC started back in 2001 when it acquired RCTI. A few years after, the Group acquired GTV, MNCTV and started its own content production and went public in 2007 with stock code: MNCN. The IPO was the largest at that time in Indonesia.
Post IPO, iNews was established and today the 4 FTA – RCTI, MNCTV, GTV and iNews have the largest nationwide audience share of more than 40% and adspend share of 45%.
MNC has invested significant resources in broadcast and production facilities which enable the company to produce high quality programs such as drama series, talent search like the Indonesian Idol, The Voice, MasterChef, Rising Star and big music concerts as well as awarding programs like TV Awards and Movie Awards. It also produces high quality animation exported globally.
In the last 3 years, MNC expanded its digital initiatives by developing mobile apps for its FTA and started to upload its content on Youtube in short and medium formats. MNC has gained one of the largest views and subscribers globally on Youtube with more than 2 billion views generated every month. MNC also operates as Multi Channel Network or MCN which has the fastest growing numbers of views and subscribers in Indonesia.
MNC operates 3 portals focusing on general and news contents called Okezone, Sindonews and iNews.id. Okezone today has the largest daily unique visitors of more than 20 million while Sindonews has more than 4 million.
To capture a significant share in digital advertising, RCTI+ is targeted to become the largest streaming service in 2020 to complement the company's strong position in FTA. Other than the live streaming of the 4 FTAs, it provides thousands of famous content library, catch up TV feature, original content like bloopers & behind the scenes, news, audio streaming and other interactive features like quiz, voting, live chat with MNC talents, and audition. UGC features for talent search competition dedicated for RCTI+ and games aggregator is currently under development.
In the next 4 years, digital and content revenues are targeted to represent 50% of the company's revenue.
MNC, beyond the largest FTA and content.